Energize your trading plan…
Phoenix Finder Targets Hot Stock Picks
Powerful trading tool & strategy exposes strengths & weaknesses of market-moving stocks
that can ignite profits for traders.
Enroll Now
Here's the course you've been searching for to ignite your trading portfolio by revealing the profitable stocks in the hottest markets.
No matter what markets you're in now.
Even if you have little trading experience.
Even if you don't know what stocks or markets to consider.
This is the course that delivers the tools, tactics, and strategies to grow your trading account.
How does $1,000 profit in an hour sound?
That's the power of the Phoenix Finder Tool and Strategy created by Danielle Shay, Director of Options and  head of Simpler Foundation at Simpler Trading.
This trading system is designed to energize your trading plan whether you're new to trading or a seasoned pro. It's simple. It's widely used by professionals and novices alike. And it has yielded 50%, 100%, even 200% gains.
How strong is the latest "hot" stock?
Which stocks are most advantageous to get into in any market ... even a very volatile one?
How do I pick a profitable stock in a crazy market?
As the volatile markets throw ticker trackers into chaos, the Phoenix Finder rises above the mayhem to provide answers to critical stock selection and deliver strong picks for consistent gains.
What is the Phoenix Finder?
In any market it's essential to know the true strength (or weakness) of a stock relative to others in its industry group. Until now, ranking the strength of a security (stock, ETF, etc.) was difficult to visualize using individual charts. Until now...
With the Phoenix Finder Tool and Strategy, it becomes clear at a glance which stocks are ripe for a rally and which are ready to drop like a rock. Targeting 50 to 200 percent short-term gains becomes possible when you can identify when money flows in (or out) to key securities in carefully chosen industries.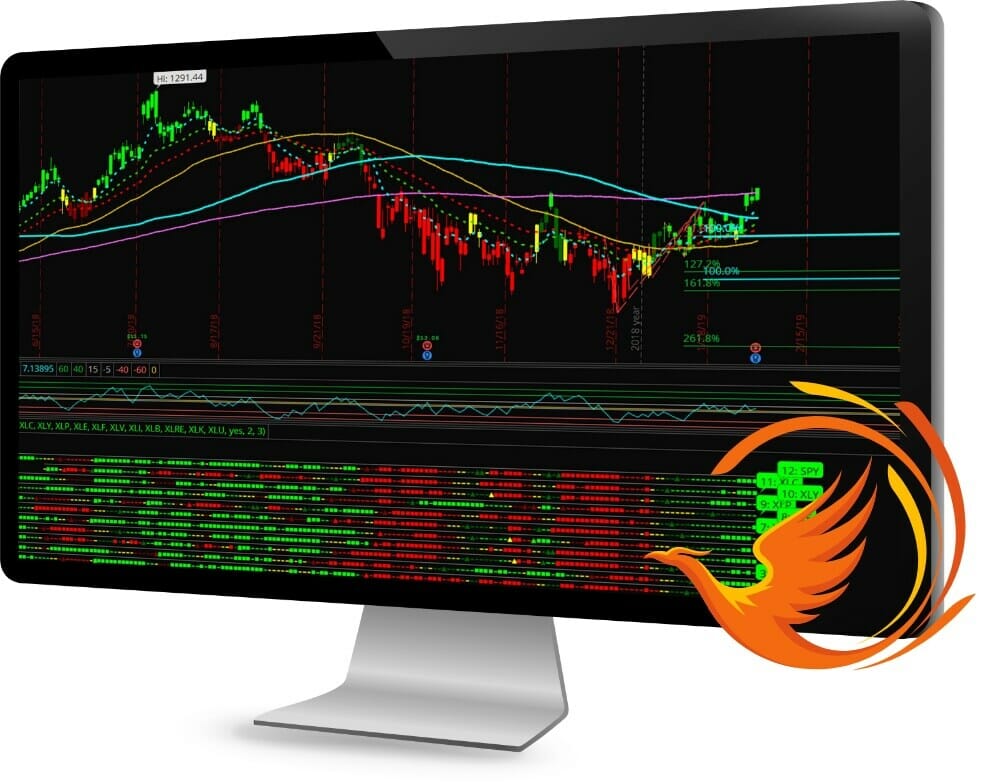 The Phoenix Finder Tool and Strategy reveals the hidden power in any ticker you choose by using a formula of comparison between key trading markets. You can act and trade in emerging industries, ETFs, or stocks. With this big picture view, you can objectively measure the strength of each symbol to help you pick the best in each class, and put your money on the hottest pick.
Discover An Incredible Tool And Strategy To Reveal Profitable Stocks:
How to identify "hidden strength" Phoenix stocks that are ready to rally. These stocks offer buyers explosive profit potential. These are the stocks that destroy short sellers.
How to expose "weak link" stocks poised to drop like rocks. Don't buy! These stocks are the "dying Phoenix" in their group. They offer amazing potential for short sellers.
How to quickly identify which stocks to target (and which to avoid). It is critical to choose options setups AFTER knowing whether money is flowing in or out of a symbol.
How to know which options setup to use for maximum profit potential with limited risk. This allows you to trade with confidence and objectivity instead of guessing.
How part-time traders with smaller accounts can reliably grow their balance by swimming with the "big money flow" (and NOT against).
How do you target profitable stocks when the
market is all over the place?
In any market, the dollars are in the details with the Phoenix Finder and Strategy. As one example in the course, Danielle covers the following profitable stock pick using Phoenix Finder. Here's the background to a Phoenix Finder pick for $1,000 profit in an hour:
Danielle shows how she used Phoenix Finder to identify this security while searching for bullish stocks within one of the hottest industries in the market.
This industry group fits into Danielle's "Phoenix Flyers" list of stocks she likes to aggressively trade when all her strategy points are present. The stock, MDB, aligned within her strategy.
The Phoenix Finder Tool and Strategy revealed on a daily time frame chart that MDB was prime for a profitable trade.
The Phoenix Finder Tool caught MDB developing in a trend where the stock was strong on its own daily chart. Now, the gold comes in by comparing it to other stocks within its industry group using the Phoenix Finder Tool. This reveals the strength in the stock's trend - particularly compared to its peers.
Danielle's Phoenix Finder Chart
The Phoenix Finder grid shows a comparison between MDB and its competitors. By using Phoenix Finder, you can see how the stock is holding strong in its particular industry.
Danielle used the Phoenix Finder Tool and Strategy to target the MDB stock during this time frame for a profitable trade.
That's how to make $1,000 in an hour!
There's Even More To The Phoenix Finder Tool And
Strategy… Build Your Own Winning Trading Plan
With These Powerful Tactics:
Here's what others have said about trading with Danielle's
Phoenix Finder Tool and Strategy:
"Danielle….you are a treasure. You have the ability to hammer your ideas into my knucklehead. Your explanation is spot on."
Bill
"Thanks so much for all your trades and lessons - I am learning and making money."
Jill
"Whoo up 9% for the week thank you Danielle great week well worthwhile being sleep deprived for. Have a great weekend."
Craig
"Danielle, this sounds just like what I need to improve my trading! Looking forward to it!"
Ray
"Danielle, in a couple weeks you have had a positive impact on my trading skills and confidence levels!"
Steve
About Danielle: Danielle is a market analyst, trader and expert commentator. She is the Director of Options and the head of Simpler Foundation at Simpler Trading. As a former teacher, her goal is to help traders grasp the basics that make trading simpler — no matter their skill level. She has the keen ability to relay trading information in small tangible bits where even the 'best' of traders will find her insights useful and easy to understand. Her primary focus is on trend-following, directional strategies via options trading, though she covers stocks and ETFs as well. Danielle is a contributor in John Carter's 3rd Edition of Mastering the Trade, and has been seen on Fox News, RT America, Benginza, StockCharts.com, Real Vision TV, Trader's Nation and more. Follow her on Twitter @traderDanielle.
PHOENIX FINDER
TOOL ONLY
Get Danielle's Phoenix Finder Tool, the Phoenix Install User Guide, and Phoenix Folio 1 & 2.
$397
$597
Buy Now
PHOENIX FINDER + STRATEGY CLASS
Get Danielle's Phoenix Finder Tool, the Phoenix Install User Guide, Phoenix Folio 1 & 2 PLUS Danielle's popular Phoenix Finder Course.
$597
$797
Buy Now
PHOENIX FINDER + STRATEGY CLASS +
LIVE TRADING
Watch Danielle in action with 3 days of recorded trading in addition to the Phoenix Finder Tool, Install User Guide, Folio and Course.
$697
$997
Buy Now
Frequently Asked Questions
Do you want to discover the hottest stock picks?
As a trader you never stop learning - whether it be a new strategy or a new area of trading. The Phoenix Finder Tool and Strategy covers what traders want to go a step further in their trading game plan. Now that I have the Phoenix Finder - and I'm profiting from using it - I couldn't imagine trading without it.
- Danielle Shay with Simpler Trading